Import of used fishing equipment
Due to its geographical location, very few pathogens are found in Icelandic fishing rivers. Serious infectious diseases, incl. common viral diseases and the parasite Gyrodactylus salaris have never been diagnosed in freshwater fish in Iceland. It is particularly important to safeguard this disease-free status, and since 1971 strict biosecurity measure has applied to imported angling equipment that has been used abroad.
It is prohibited to use fishing equipment that has been used for angling abroad unless it is disinfected before use. This applies to all angling tackle, i.e. rods, fishing reels, hooks, lures and waders.
Disinfection - where and when?
Disinfection of equipment is performed by:
Before importation (this is preferable): veterinarians and other recognized bodies that issue a valid certificate of disinfection which then is presented before use.
Disinfection services is offered at Keflavik Airport.
Veterinarians and other recognized bodies in Iceland such as angling associations and fishing ground owners.
According to MAST risk assessment, the following equipment is exempt from disinfection:
Kayaks and small water boats.
Diving suits, both wet and dry.
Fishing equipment used in Greenland.
All truly new and unused sport fishing equipment.
Used fishing gear imported by mail
Used fishing gear imported by mail will be delivered with a notice stating that the equipment must be disinfected before use.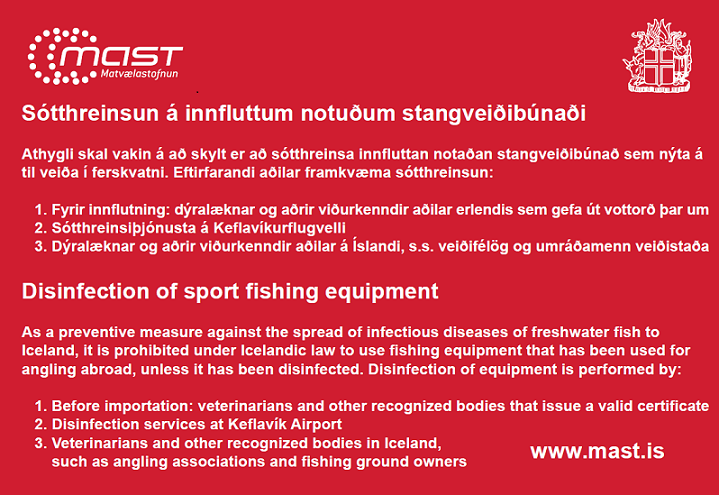 Disinfection guidelines
The minimum equipment for disinfection consists of a plunger or chute for immersion, spray bottle and a washbasin. It is also good to have a plastic bag and tape at hand.
The following disinfectants are approved: VIRKON-S and 70-85% alcohol. The substances are very active against the most common infectious agents and do not damage equipment or clothing if done correctly and are harmless skin in the recommended strengths.
Instructions:
Alcohol: 70-85% solution (disinfectant alcohol).
VIRKON-S 1% solution (10 grams (2 tablets) dissolved in a liter of water). The solution is pink/red but becomes clear over time as activity decreases.
If dirt or moisture is noticeable, the equipment must be thoroughly cleaned before disinfection.
Spray the liquid carefully over the surfaces to be disinfected. In the case of a fishing rod, it is enough to just spray the shaft.
Fishing reels and hook boxes can be sprayed in their entirety and then rinsed well in running water after a.m. 10 min. contact time. (Note: Fly boxes often contain new unused flies which are thus exempt from disinfection).
Hooks, knives, rotors, fishing vests, fishing shoes and waders should also be sprayed carefully (even dipped in a disinfectant) and then placed directly in a plastic bag for ca 10 minutes.
Legislation
Amendments to Act no. 60/2006 to promote administrative simplification came into force on January 1st 2021. The amendments entailed that used fishing equipment may be imported but it must be disinfected before it is used in Icelandic rivers and lakes.
MAST may entrust the keepers of fishing grounds with the implementation of disinfection, in addition that customs authorities can be assigned the appropriate measures.
Biosecurity is not compromised, but flexibility increased and thus the needs of tourists who come here to go angling are met. Disinfection of fishing equipment will continue to be offered at the airport in Keflavik, as the vast majority of tourists come to Iceland via Keflavik Airport.